10 Ways to Support Your Blind and Visually Impaired Colleagues
Being productive at work can be impossible when you're blocked from even getting started. If you're blind or visually impaired, you probably know how this feels. If you're not, there are several things you can do to make your teams and workgroups more inclusive - and productive - for your blind and visually impaired colleagues.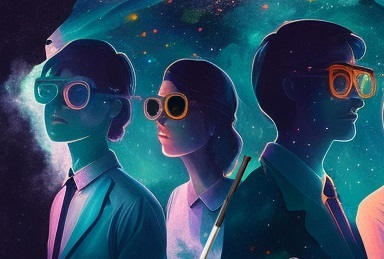 Inclusion requires that team members have access to:
Physical resources

like laptops, internet connections, software tools, mechanical tools, and personal protective equipment (PPE),

Informational resources

like documentation, standard operating procedures, other process descriptions, and mentorship opport

unities, and

Interactional resources

like social connections and open channels of communication (Schleien et al., 2003)
Many organizations that want to improve inclusion focus on improving social interactions. But for blind and visually impaired workers, it's important to start at the beginning, by making sure they have access to the physical resources and information they need to carry out the requirements of their role.
Physical access:
Ensure that regular-sized text (smaller than 18pt) required for someone to do their work has at least 4.5:1 contrast ratio with the background. Large text (18pt or larger) should have a 3:1 contrast ratio.

Check to make sure that text of all sizes can be resized and reflowed (for example, when resizing windows) without issue

Verify that non-text content has 3:1 color contrast with the background.

Ensure that color alone is not the only means to convey information.

Ensure slide decks, PDF files, and spreadsheets are screen reader accessible.
Informational access:
Ensure that instructions are not based solely on visual information. For example, "activate the green button in the bottom part of the page" is not accessible because it requires visual interpretation. Instead, "activate the green <<accessible name of button>> in the bottom part of the page" uses a specific keyword that assistive technologies can use to associate the button with its name.

Make sure all visual references during meetings (e.g. Slack, meeting videos, project documents) are described verbally by the person talking or by using text-based alternatives (like transcripts or slide notes).
Interactional access:
Be considerate with emojis. While screen readers do provide quick verbal descriptions of many emojis, using too many can distract from the intent of the message.

Ensure the person has a work partner who can provide support by describing elements in the workflow that might still be confusing.

Consider alternatives for spreadsheets and tables if possible (for example, providing metadata, or text-based summaries of the content).
Preparation is key! Ask your blind or visually impaired colleagues (in advance) about their preferred formats for materials, and make an effort to provide them. For example, someone may prefer email over Slack for information about meetings or to receive alerts about changes to documentation.
In all cases, whether you're visually impaired or not, do reach out and ask for clarification. This can lead to improvements for everyone in a team or workgroup. For example, if someone posts an emoji or formats text in a way that doesn't make visual sense, ask them what they intended and encourage them to clarify. Particularly in cases where someone has accidentally used an emoji that's not safe for work, not saying anything can lead to embarrassment for everyone - and isn't very inclusive or supportive.
Take your first actions towards making work life easier for your blind and visually impaired colleagues today.
Ultranauts helps companies establish and continually improve software quality and data quality. Accessibility is one of the most important aspects of usability, which is a driving force behind how customers and stakeholders perceive the quality and value of your company's software and content. Ultranauts Accessibility practice helps organizations train their employees to raise awareness of accessibility issues related to usability, develop accessibility testing skills, build strategic competencies, and test software, documentation, and designs.
Additional Reading:
Schleien, S., Green, F., & Stone, C. (2003). Making friends within inclusive community recreation programs. Amer. J. of Recreational Therapy, 2(1), 7-16.